In April 2019 I invited a few close friends to Puerto Rico for my birthday. I figured 5-10 would show up. Instead several brought friends and we ended up having a 51 person week long party / unconference / exploration of Puerto Rico.
There were wild horses, bioluminescent bays, giant telescopes, and discussions that made me feel lucky to have such weird and wonderful friends. It was also astonishingly easy to put together, which shows how ready Puerto Rico is for more tourists.
If you're looking for a very fun vacation that supports many local entrepreneurs and Puerto Rico's ongoing recovery, follow the itinerary below.
Wednesday in Old San Juan: paella, piano, and dancing
Old San Juan is one of the oldest settlements in the Americas, with buildings dating back to the 16th century. It feels more European than anywhere else I've been in the 'new world'.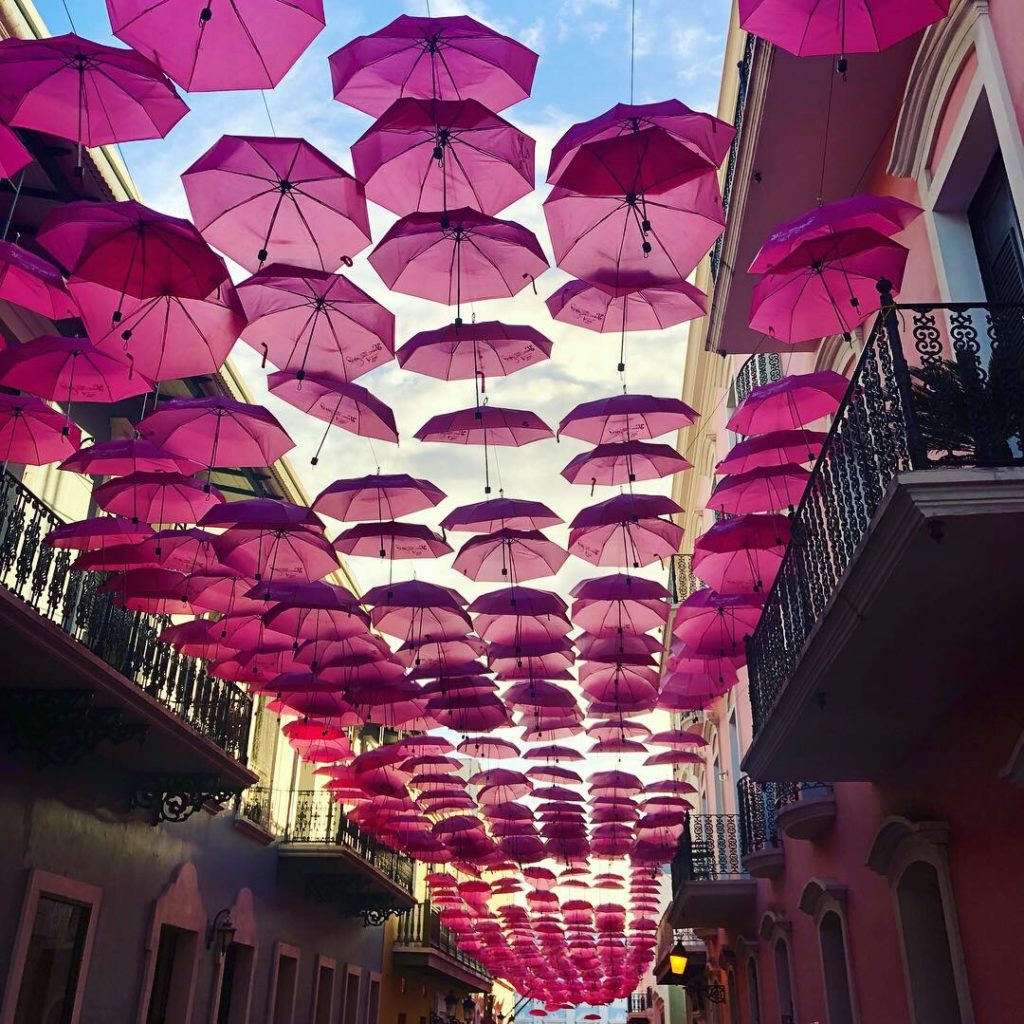 We rented a 200 year old house constructed by rum baron, now owned by my friend Jon. He rents it on Airbnb here.
We watched sun set from the highest point in Old San Juan: the roof of the Gallery Inn, a fabulous boutique hotel full of art and parrots (there are five: an African Grey, two macaws, and two cockatoos). The hotel is a labor of love created by the 80-something Jan D'Esopo, a gifted painter.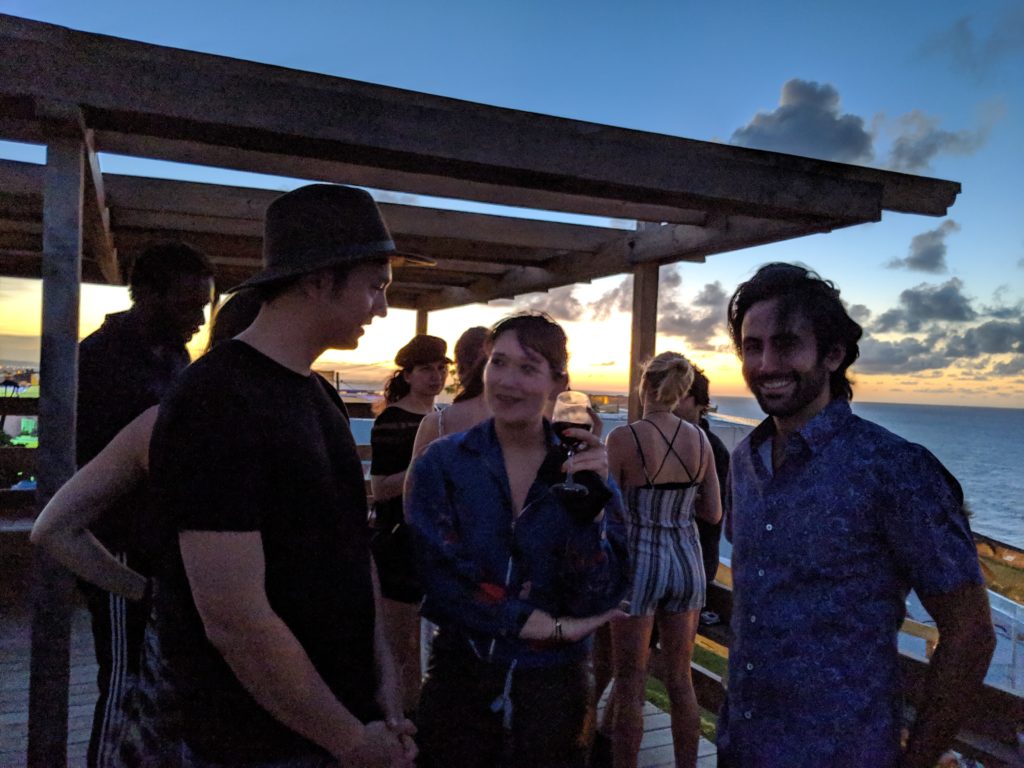 We hired Jorge Morales, the chef from Cafe Poesia, an arts-focused cafe in Old San Juan, to make paella live. If you don't want to hire him for an event, you can enjoy his paella of the week at Cafe Poesia every Friday at lunchtime.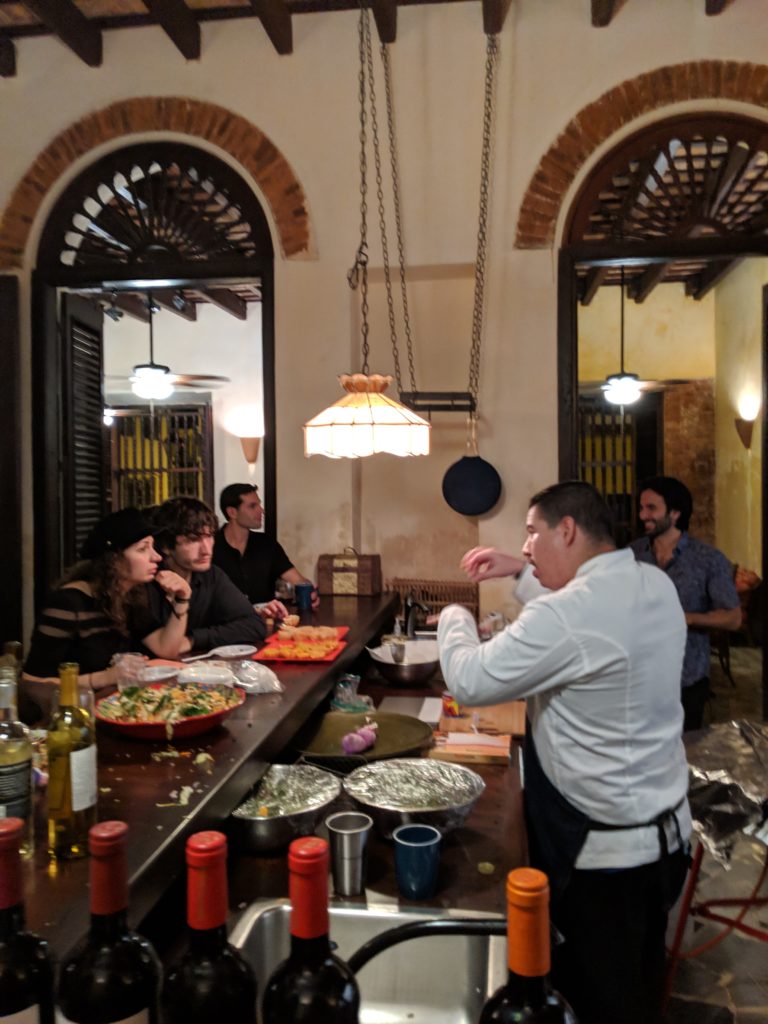 We ended the night at my favorite one-two punch in Old San Juan: the Cannon Club at the Gallery Inn and La Factoria.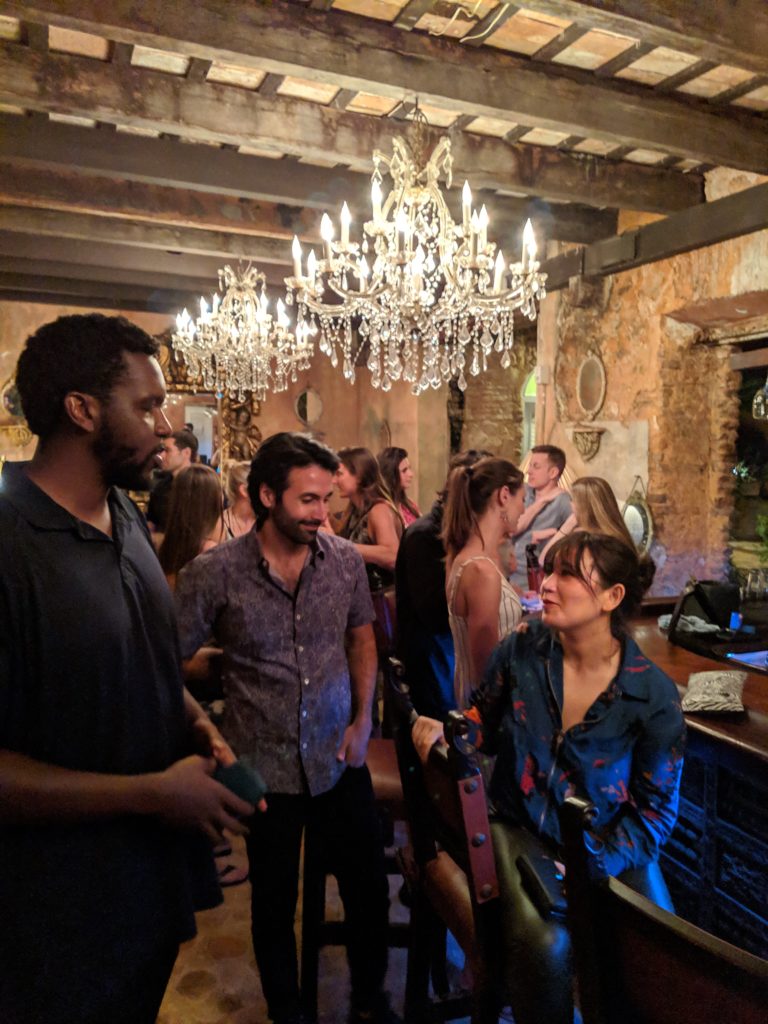 Cannon Club is a gathering place of colorful people, parrots (the same ones from the hotel above) and pianos. Gifted artists often show up unannounced to play live; Alicia Keys and Yo-Yo Ma were both here earlier this year.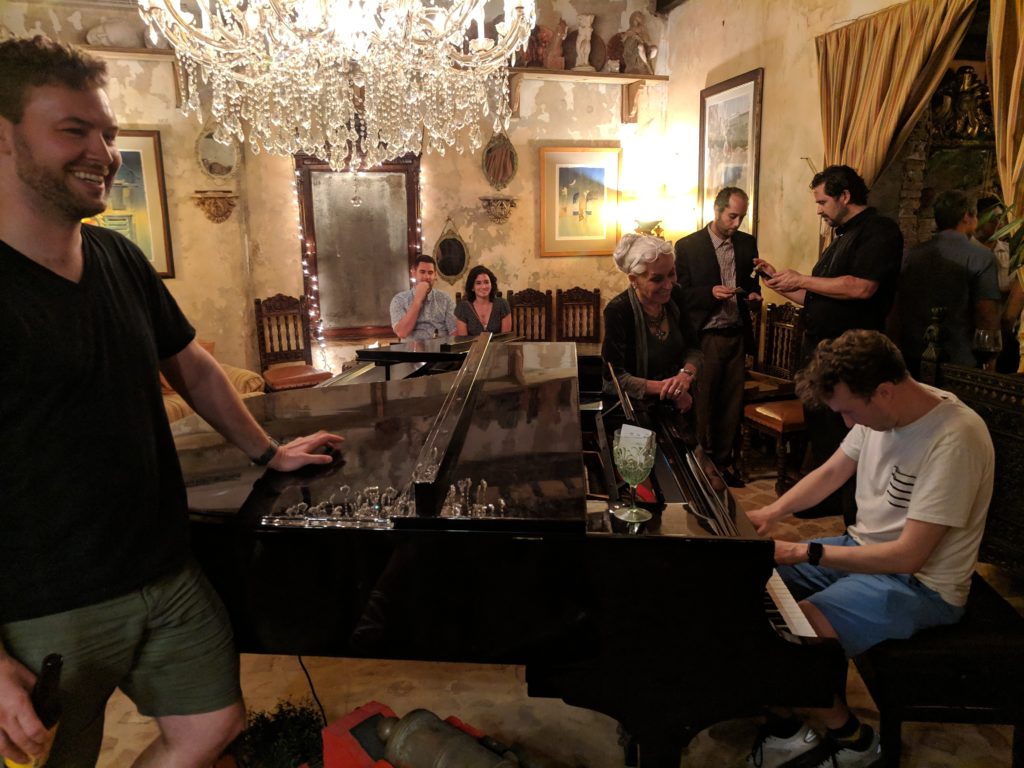 La Factoria is a James Beard Award-winning cocktail bar that is actually a labyrinthine collection of 6 bars accessed speakeasy-style through unmarked doors. From the cocktail bar you pass through to a wine bar, a salsa/dancing space that often has live music, a dungeon-like disco with an even more dungeon-like cocktail bar in the very back, and another bar I don't want to describe in too much detail because it's more fun to bring people there in person. Since this was my actual birthday, someone was nice enough to arrange a cake and buy me way too many shots.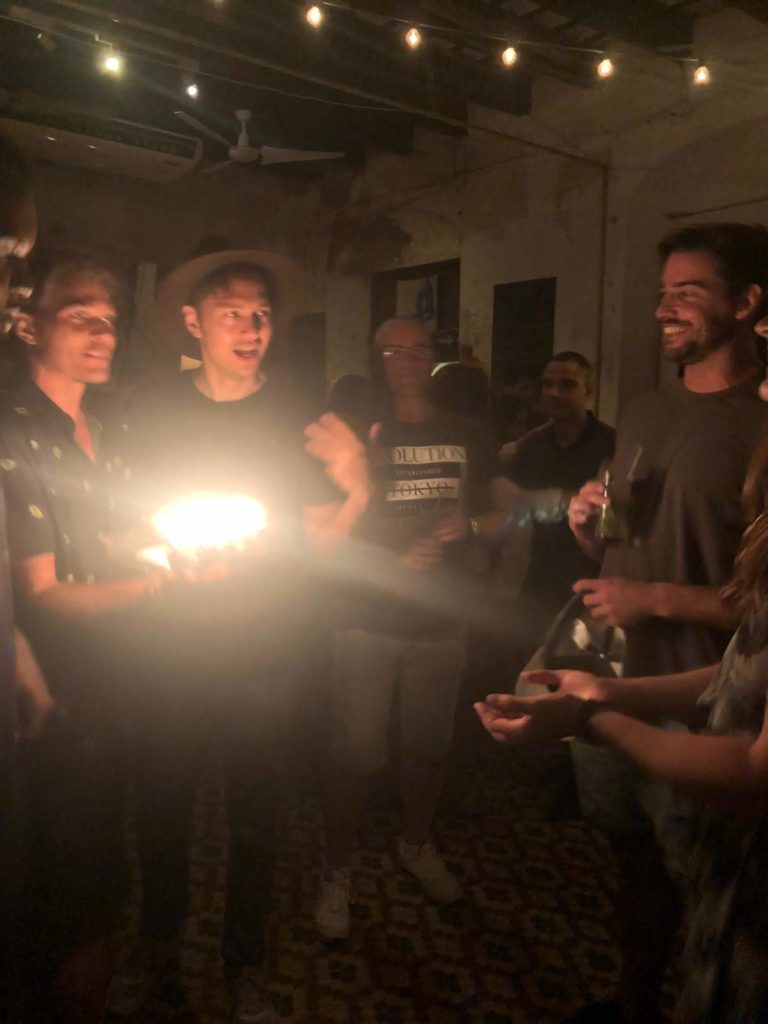 Thursday: beach day in San Juan / exploring art and nightlife in Santurce
Early risers spent the morning visiting El Morro, a monumental fort built by the Spanish over the 16th-19th centuries at the edge of Old San Juan.
We spent the afternoon at Ocean Park beach, surely one the of the best beaches in the world. A few friends bonded with the local kitesurfing crew while most of the rest of us played volleyball.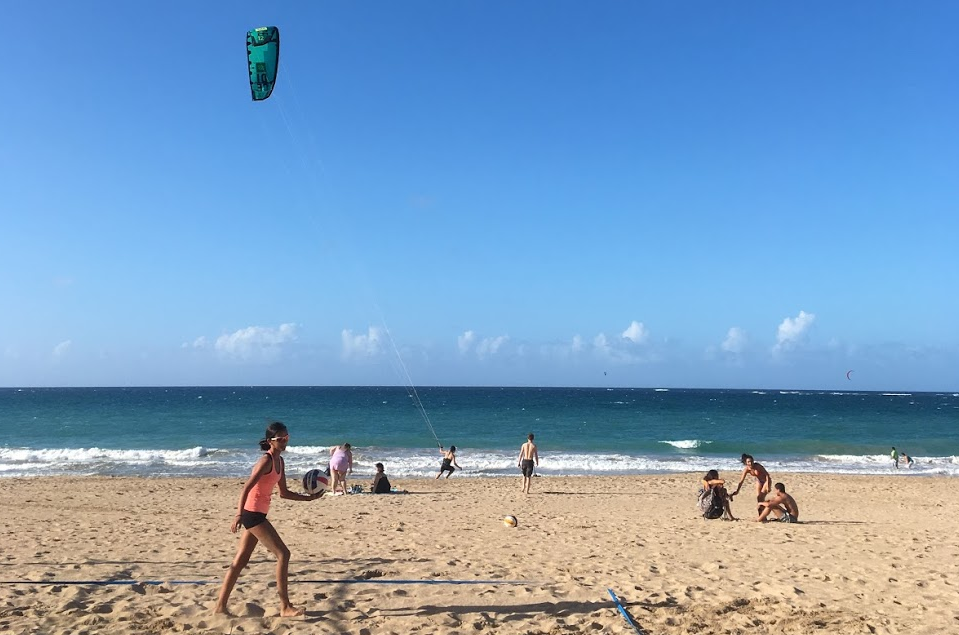 By late afternoon we migrated to Calle Cerra in the Santurce neighborhood, a mecca for local art where many of the buildings are covered in murals.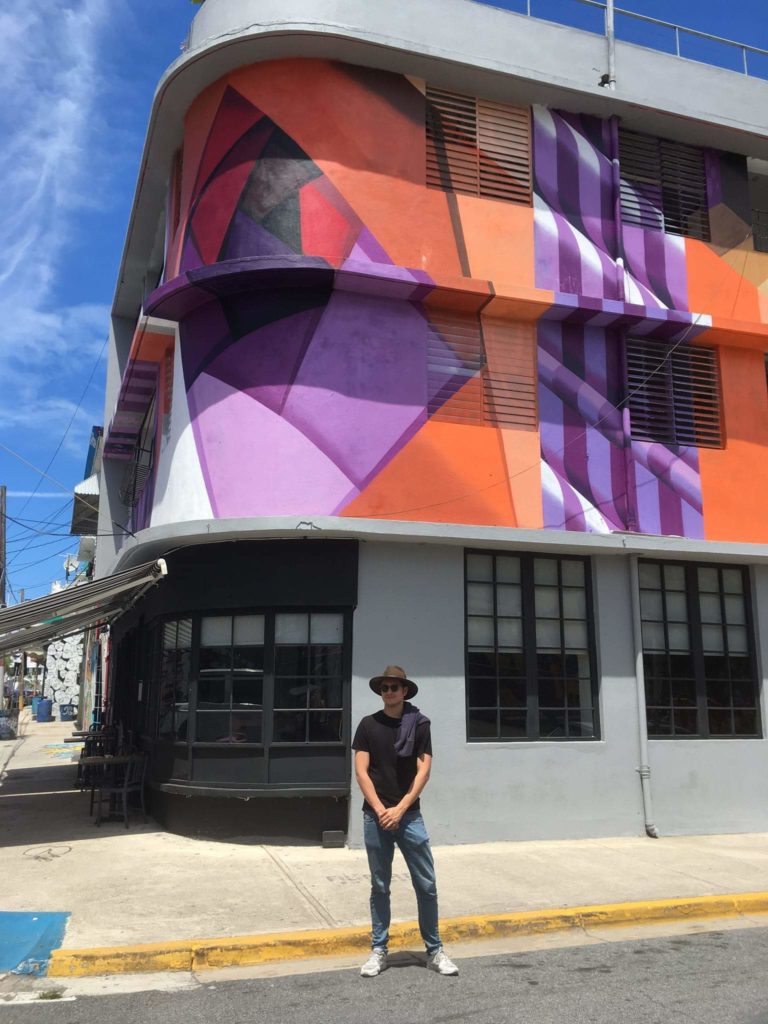 We started with dinner at El Patio de Sole, a restaurant that looks like the inside of a well-curated thrift store. It serves good old fashioned Puerto Rican comfort food.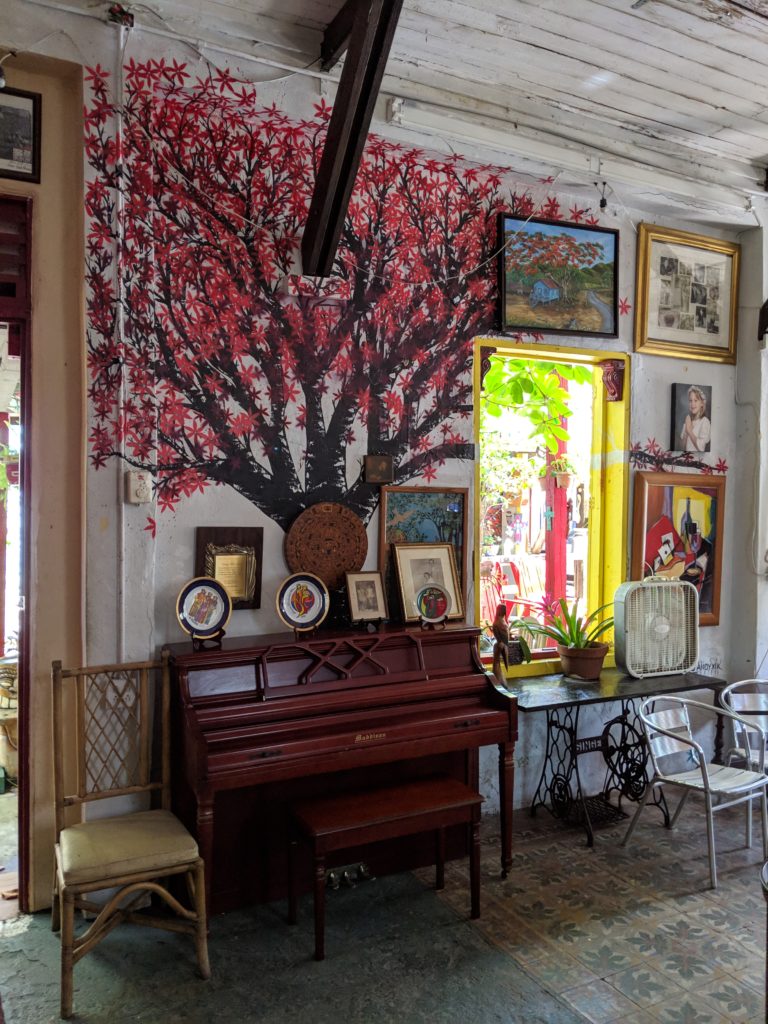 We visited my friend Shipwreck's studio, sadly now closed while he works on finding a new live/work space. This was the first, though certainly not the last, time Sean somehow ended up shirtless.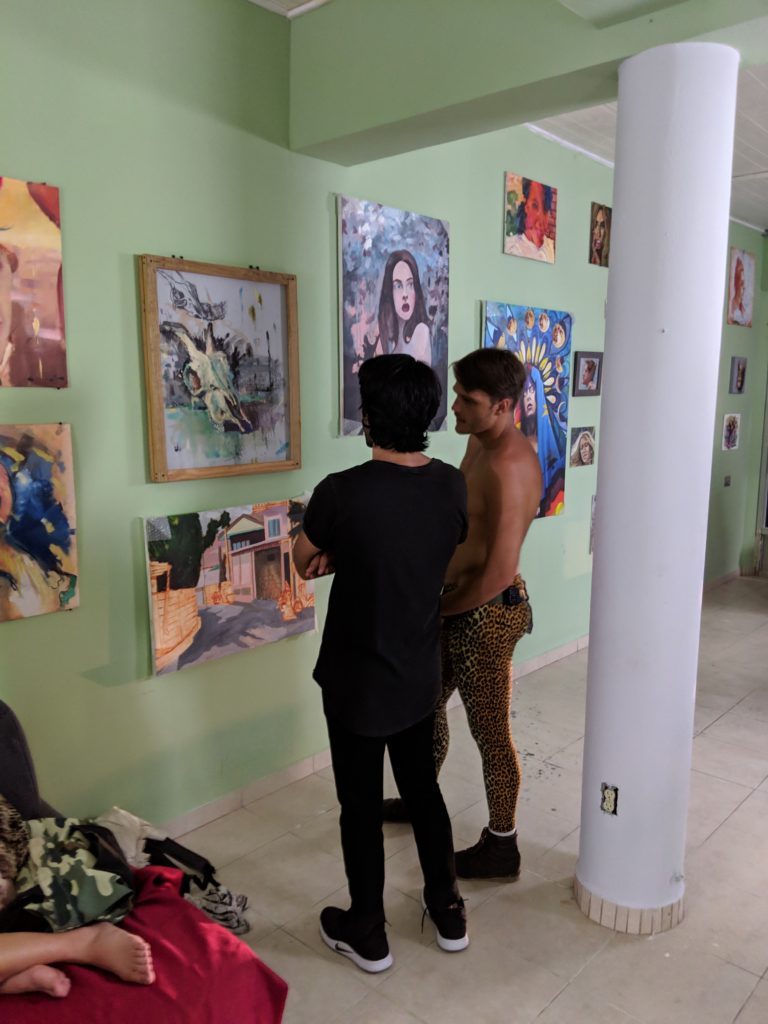 Thursday nights on Calle Cerra usually see a number of gallery openings and live bomba y plena music at Esquina el Watusi, a favorite local bar.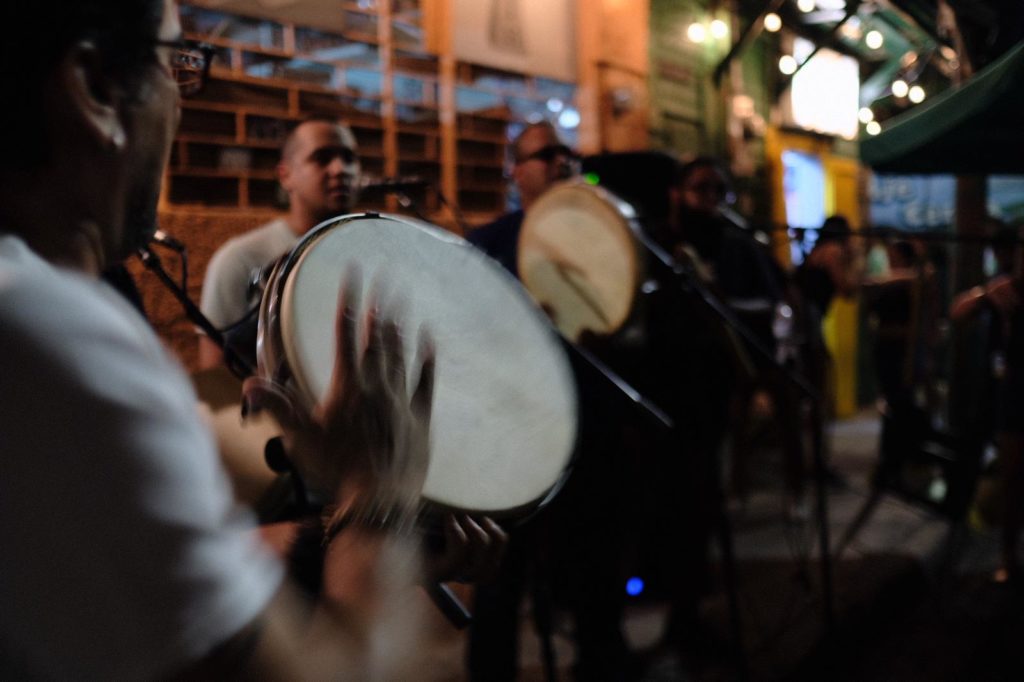 There was much dancing on the street. For no good reason, a number of us decided to wear cheetah print.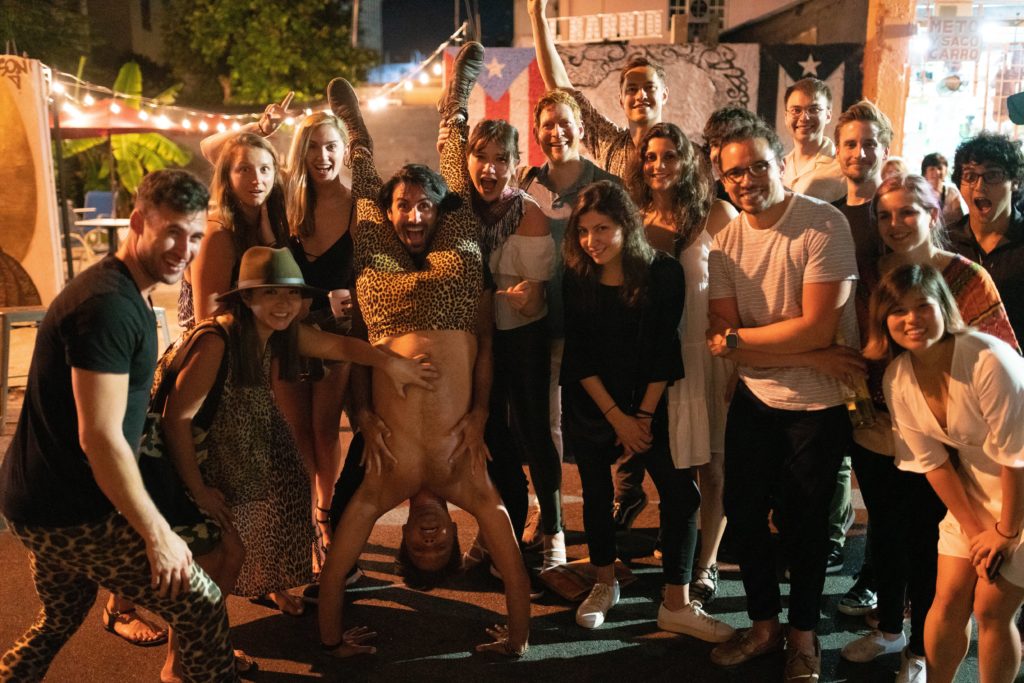 The most energetic of the group ended up at El Local. After Hurricane Maria, this alt bar became a soup kitchen and shelter for many in the neighborhood. When we went it was the weekly LGBTQI night, complete with fire dancing performances.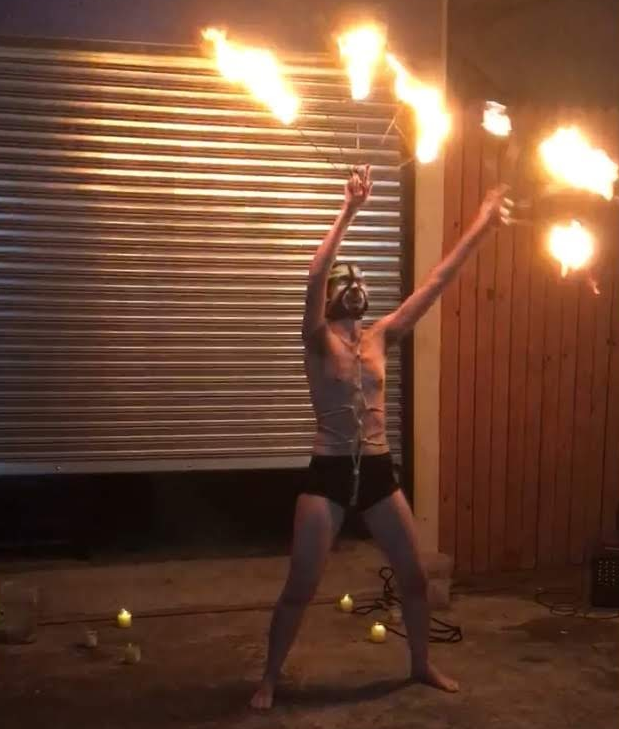 Friday: Space telescopes + ancient petroglyphs
We had a leisurely morning before taking a bus to Arecibo Observatory. It was until 2014 the largest space telescope in the world (now the Chinese have built a bigger one).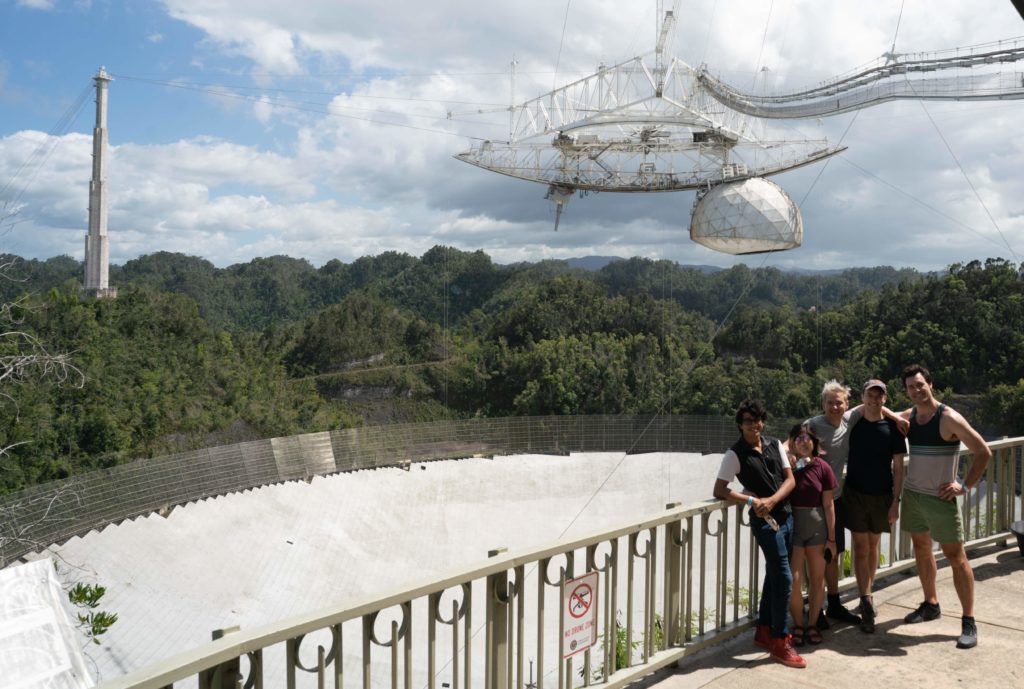 The telescope is in a crater in the middle of a mountain range. We had to turn off our cell phones so as to not interfere with the telescope *talking with space*. The accompanying museum had fun interactive exhibits explaining the telescope's importance to our space program.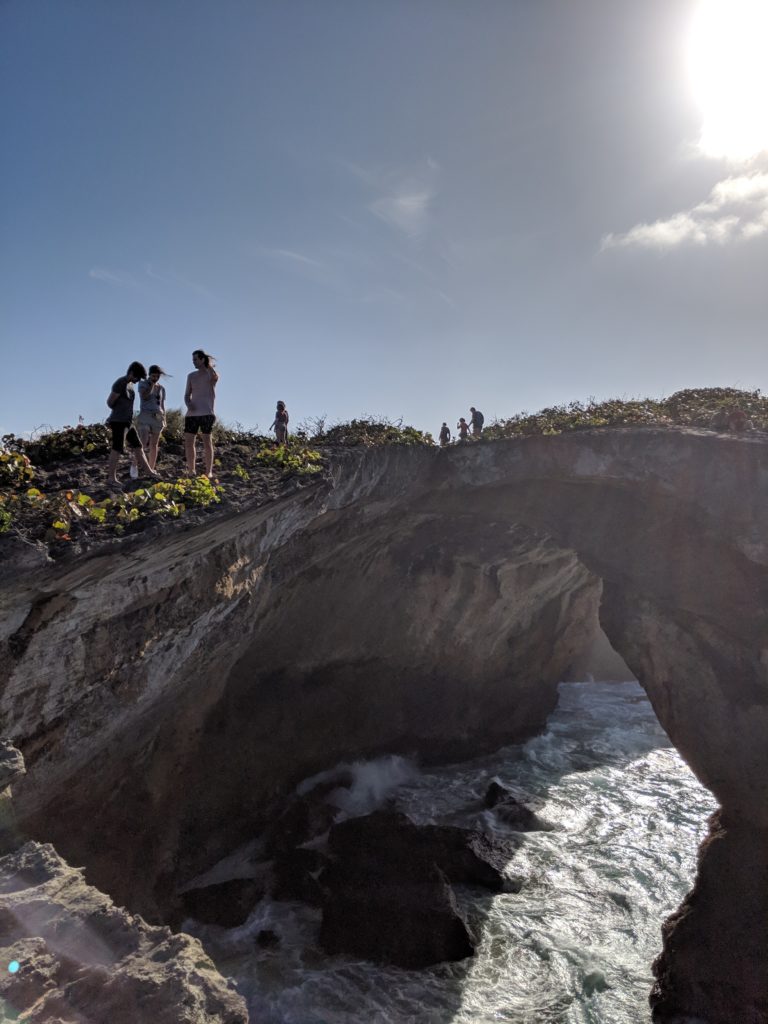 Next we headed to the nearby Cueva del Indio, a spectacular beach/rock formation where there the Taino native Americans carved petroglyphs into the cave walls about a thousand years ago.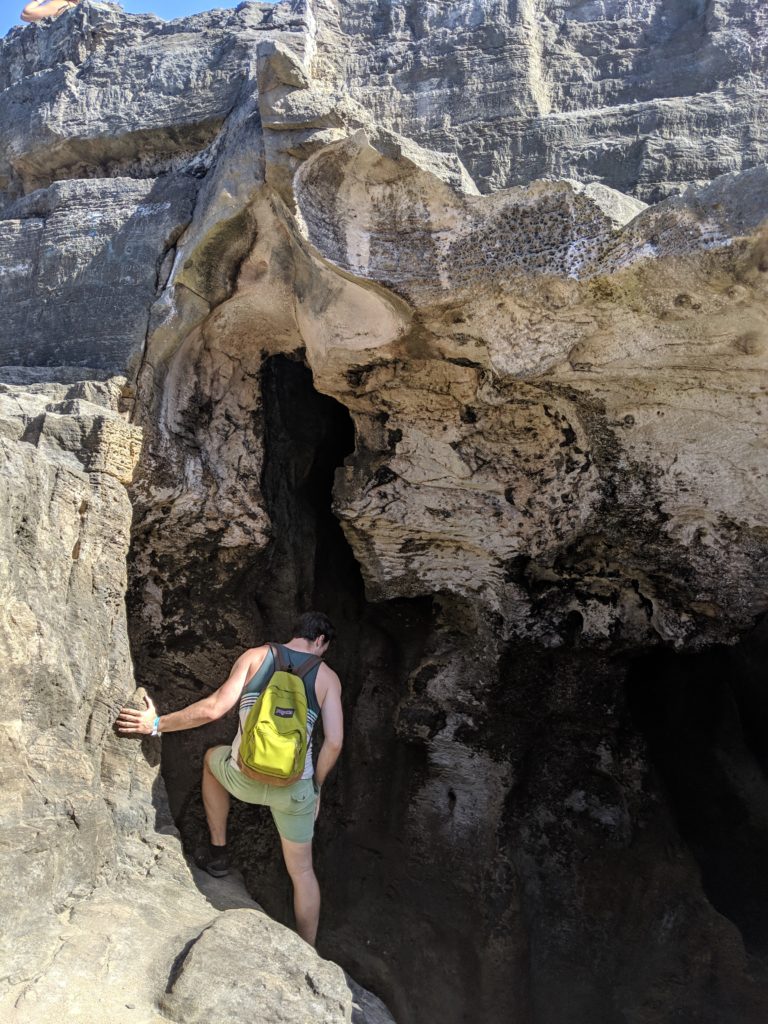 You have to climb down a bit to see the petroglyphs. I was too distracted by the scenery so missed them. Good thing I live here and can go back..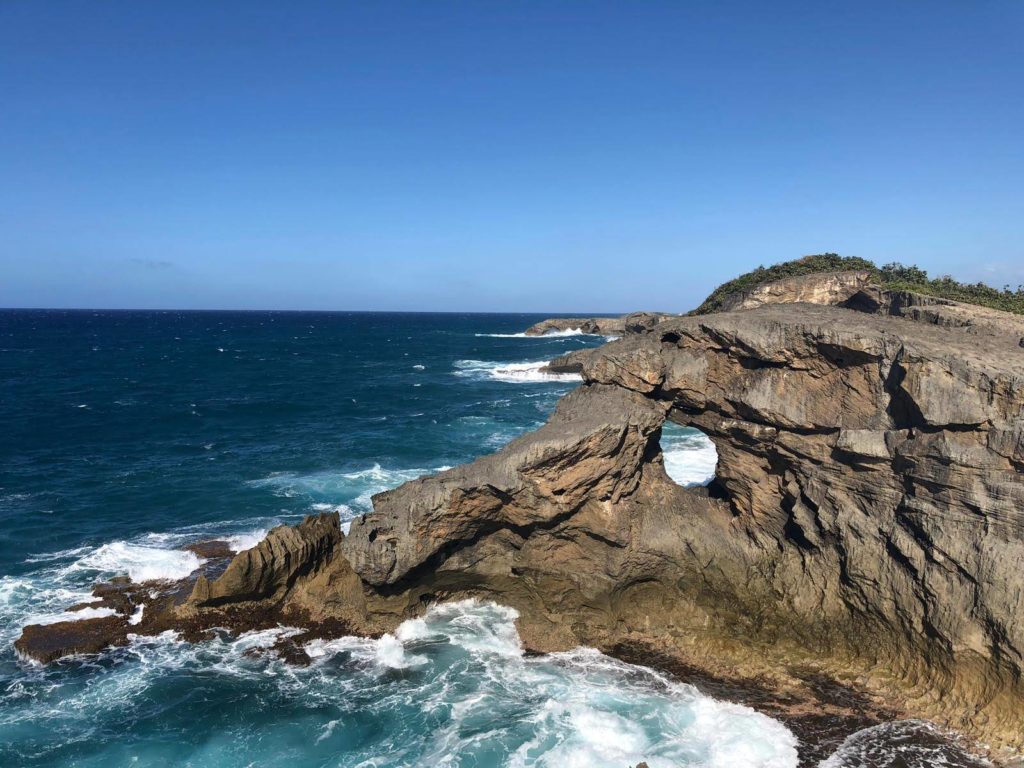 A few people got their drone one.
And watched the sun set while eating freshly caught seafood from the nearby Salitre Meson Costero.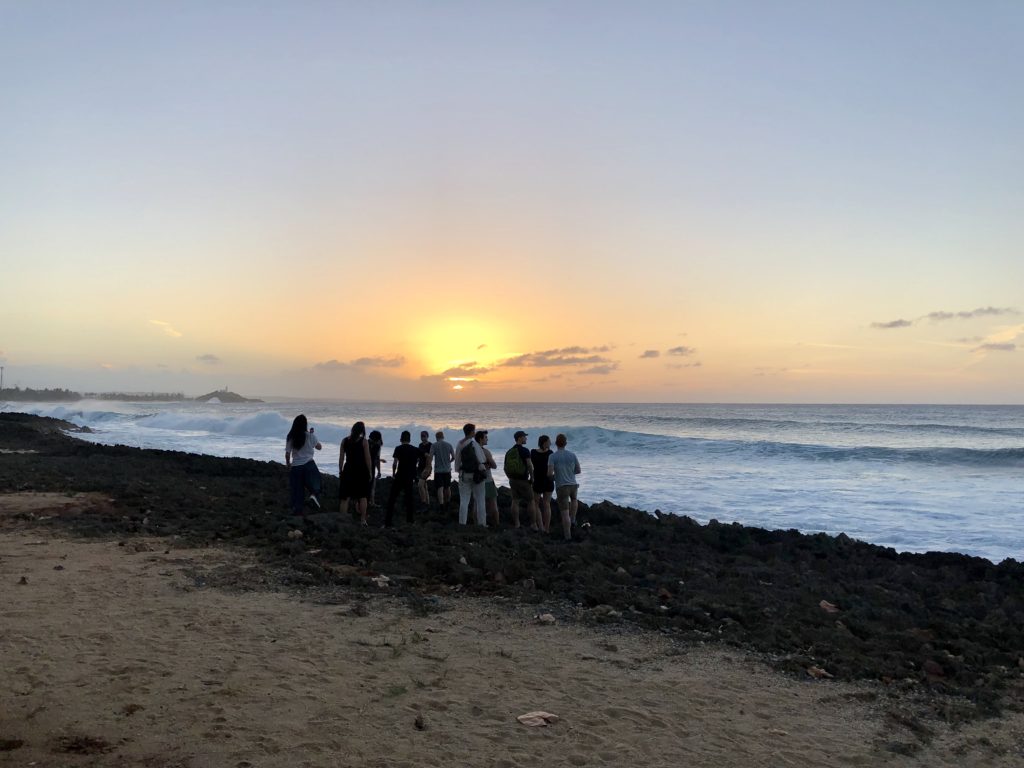 Saturday: to the (other) island!
Off the eastern coast of Puerto Rico lies the perfect tropical island of Vieques. Once used as a military training site, the island is turning into an eco-tourism paradise powered almost entirely by renewable energy. We took a bus from San Juan to Ceiba where we caught the ferry over.
When I say perfect tropical island, I mean pristine turquoise water, palm trees, and… wild horses!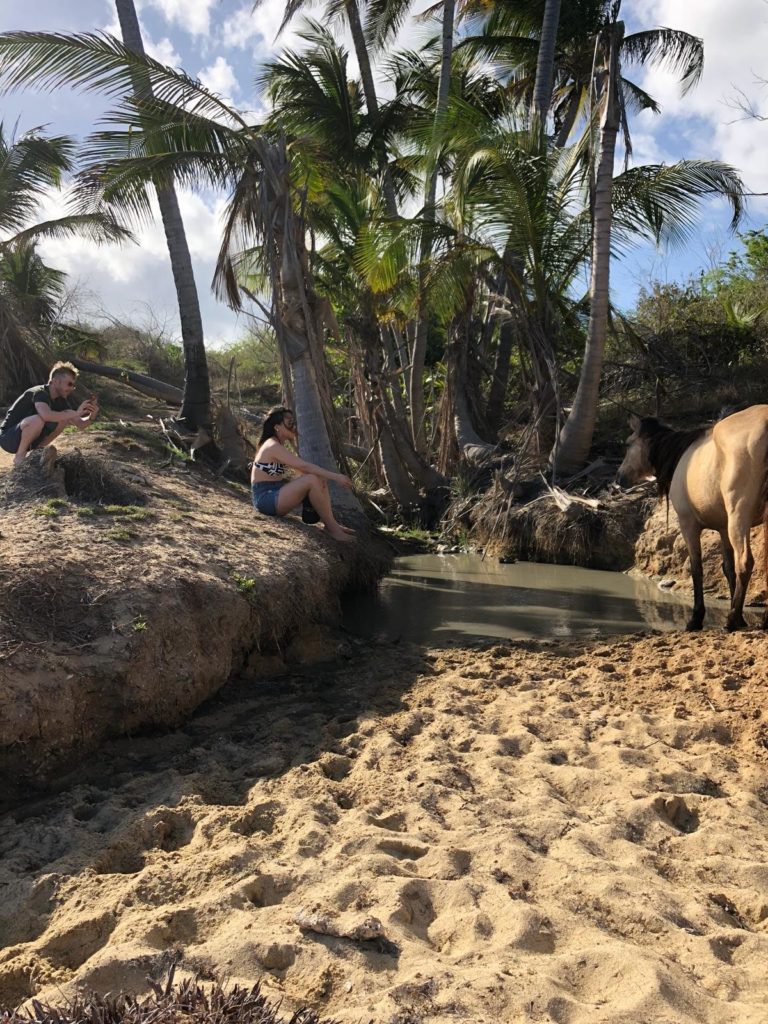 And foals.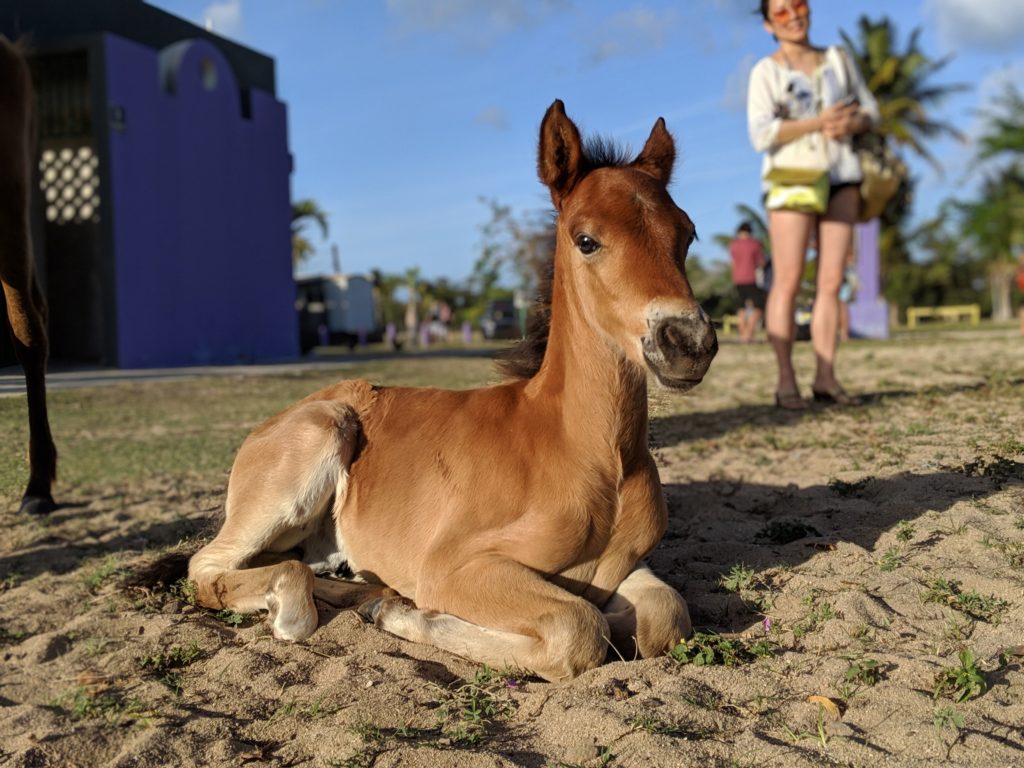 Some people stayed in hotels and Airbnbs, but the majority of the group camped on Sun Bay Beach, which had showers and toilets (though BYO toilet paper).
We worked with the excellent Banquetealo to have food catered to the beach.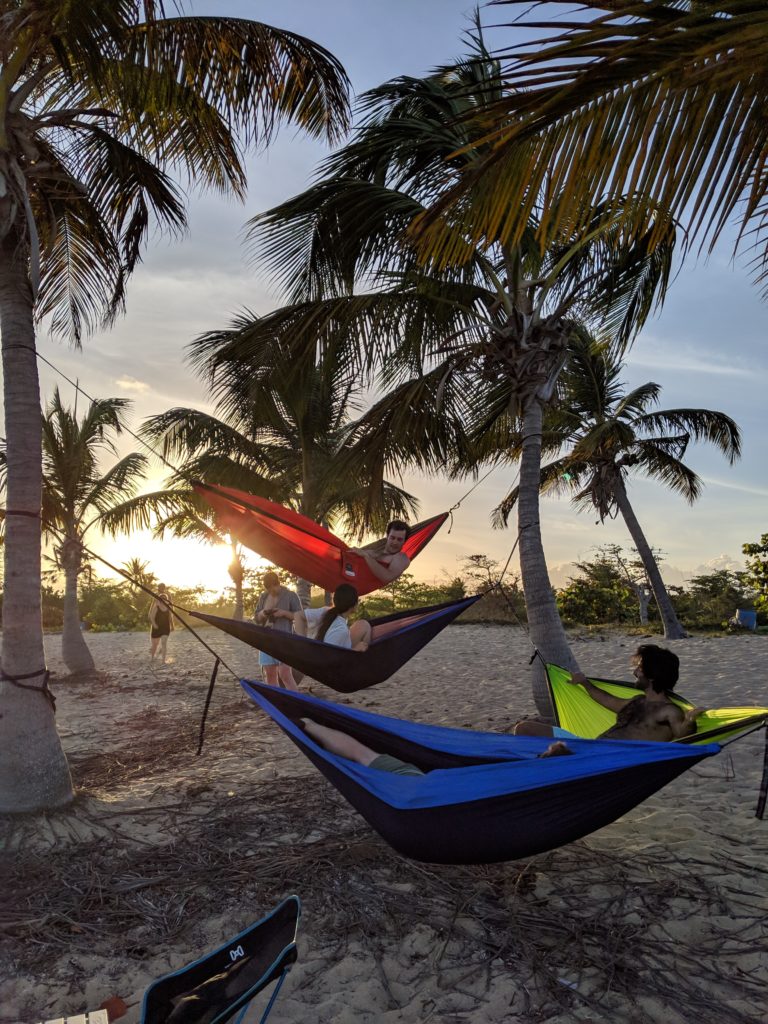 We rented jeeps and golf carts to get around. Esperanza is the main town on the side of the island with the bioluminescent bay, which was our target for the evening.
What? You didn't know the brightest bioluminescent bay in the world is in Puerto Rico? A place where you put your hand in the water and millions of microscopic organisms fluoresce so your hand is covered in blue sparkles? Unfortunately its' basically impossible to capture on camera so instead I'll share pictures of our campsite.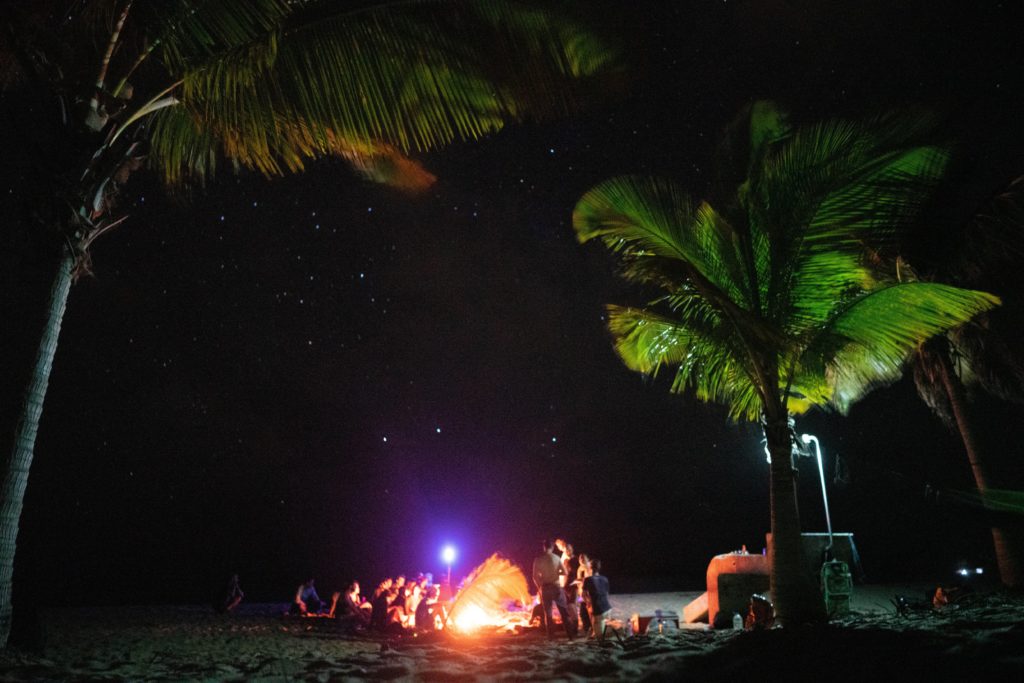 It's easiest to appreciate the bioluminescence under a new moon so it's as dark as possible. Which means we also got to appreciate the stars!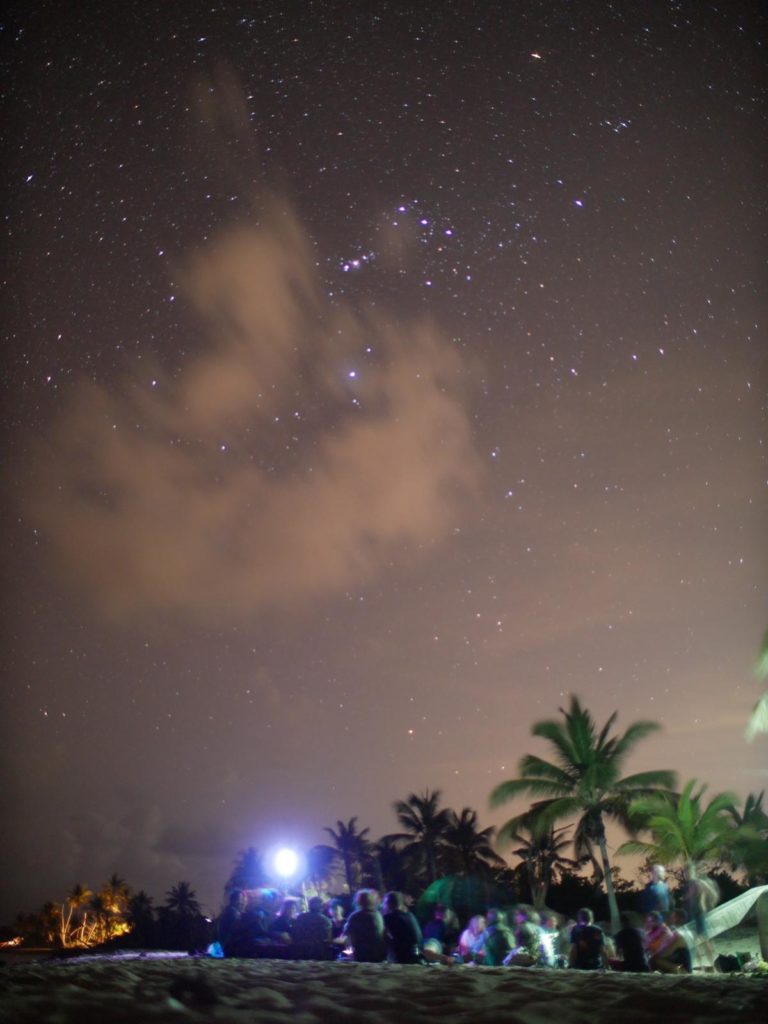 Sunday: back to San Juan and beyond
Some of us made it to sunrise. Others did not.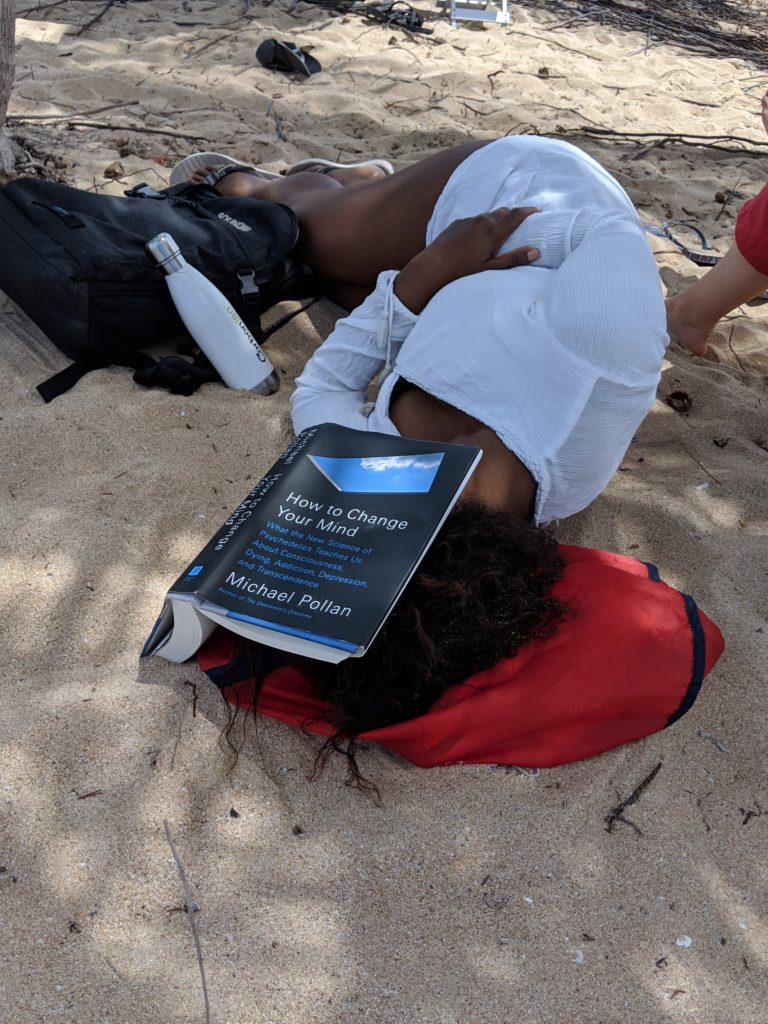 Then it was back to San Juan via ferry and bus (some people flew – there are 15 min flights into SJU and Isla Grande, a smaller municipal airport in San Juan). We finished the weekend with a low key barbecue at a friend's house.
For transport, I worked with chartercoachpr.com who were excellent. We hired Abe's Bio Bay Tours on Vieques to visit Mosquito Bay. Banquetealo helped cater our dinner on Vieques. Other than a few dinner reservations, we figured out everything else along the way. I couldn't have pulled this together without everyone stepping up to figure out the many tiny things that needed doing, and owe a huge thanks to everyone who came and made the experience so perfect. But even if you don't have my friends with you, Puerto Rico has its own magic: come and see for yourself.
Share this: